A good or additive synthetic oil is very important to enlarge the lifespan of an engine. It not only prolongs the way to expand the engine but also enhances the vehicle's performance. In the field of synthetic oil, both ACDelco Dexos1 and Mobil1 are widespread names.
But there are a few differences between the two which may put you in a dilemma to choose the right one. Dexos1 is suitable for gasoline engines only, whereas Mobil1 is a good buy for the modern turbocharged engine. Let us see some more comparison between ACDelco Dexos1 Full Synthetic VS Mobil 1 has indulged too.
ACDelco Dexos1 Full Synthetic VS Mobil 1: Which brand is better?
Both ACDelco Dexos1 full synthetic VS Mobil 1 comes from well-known brands. But you must be aware of choosing the eligible one consciously. If we specifically talk about the brand, then we must go for Mobil-1.
It's true that ac Delco has been in the fuel industry for many years. Moreover, the brand has committed to giving every facility that your vehicle engine needs. Every hook and crook this oil provides surely goes with the protective shelter to the general motors. In other words, Dexos 1 is a trustworthy brand to improve the engine lifespan, very useful for the critical components. But the matter of regret is that this oil is only applicable for gasoline engines and older motors.
Comparatively, the full synthetic Mobil1 also has some unique traits and good sides. The oil reduces friction and doesn't spread any harmless around the atmosphere. It is a very versatile oil that can be used in almost every vehicle like Toyota, Ford, Mitsubishi, etc. In a word, both of them are suitable to support the engine. Yet the Mobil1 had some extraordinary provinces to reduce damaging deposits.
Comparison Chart Of ACDelco Dexos1 full synthetic oil VS Mobil-1
Features
ACDelco Dexos1 full synthetic oil
Mobil-1
Suitability
Gasoline engine
high performed turbocharged engine
Viscosity power
15,000 miles
10,000 miles
Key working capabilities
Elongate engine lifespan
Clean engine parts, reduce friction, low fuel economy
Preferred car models
The modern car, old model, light trucks & specified model vehicles
NASCAR, Porsche GT3 Cup cars, etc
Specifications
ILSAC GF-5/API SN
API, SJ, API, SL, API, SM, API, SN
Temperature
cold weather
Extreme hot temperature
Price
$6-21
$8.00-9.75
Kinematic Viscosity @ 100 C, mm2/s
10.4
11.1
Kinematic Viscosity @ 40 C, mm2/s 40 C, mm2/s
61.2
64
Flash Point, Cleveland Open Cup, °C,
160
230
Where is This product Available to buy?
Amazon 🚚 
Wallmart🚚 
Autozen🚚 
Amazon 🚚 
Wallmart🚚 
Autozen🚚 
ACDelco Dexos1 Full Synthetic Wins
Let's see the advantages of ACDelco Dexos1 full synthetic oil in depth.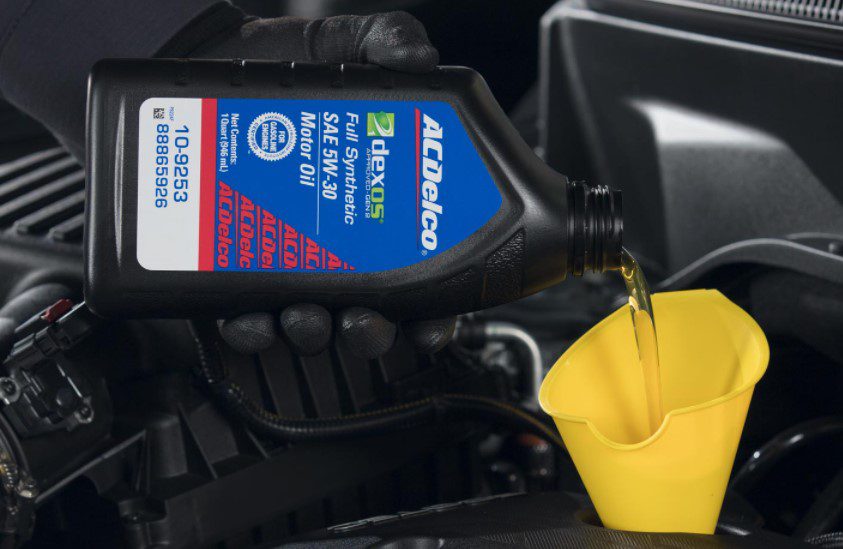 It gives a protective layer over the components
ACDelco Dexos1 is the best synthetic oil that gives your engine components an extra protective layer. The manufacturer who makes ac Delco designed it in a way that can be super effective to reduce the corrosions. This synthetic oil is the perfect buy to optimize the parts and other components of your engine.
Having good flow even in high or cold temperatures
As any other engine oil, ACDelco Dexos1 is constructed by high-end technology that can tolerate any sort of bad weather. Sometimes the excessive temperature causes tire damage as well as negatively affects the vehicles. Besides, in a snowy temperature or even under the 32F temperature, the engine runs safely with this synthetic oil.
Manufactured By Many High-End Facilities To Fight Engine Problem
Dexos 1 can bring marvelous changes through the vehicle. One of the best engine oils of this brand is ACDelco 19418206 GM Original Equipment Dexos1 5W-30. The oil review gives us a hint about its viscosity. If you had recently rebuilt the motor and advised to only use original GM oil, this is the better fuel for filtering it. As well, the oil helps the engine from reoccurring. So the oil ingredients will fight against daily dirt and clog inside the engine.
Ready to Perform both On And Off-Road Performance
Dexos approved oil is manifested with good ingredients that can prolong the way to perform both on and off-road. The vehicle had high mileage and better longevity to run over the hard and rough surfaces. Again, it has a pure formula that does well and is suitable for every kind of model. Again, the Dexos gen 2 helps to balance the fuel economy.
Reduces Turbocharger Deposits & Improve Oxidation Control
The turbocharger is a turbine of the combustion chamber that rotates the fins to produce energy towards the engine. With the help of extremely high speeds, the turbocharger will boost the engine's power to force more air inside the combustion chamber.
What is equivalent to Dexos oil is to maintain the turbocharger in good condition to ensure the stuff works as expected. It also provides the right amount of fuel to protect your engine from damage due to overheating or excessive temperature.
Reduces Low-Speed Pre-ignition
The ACDelco is also efficient in reducing the low speed of pre-ignition. Pre-ignition is a process that usually occurs in gasoline engines as the main fuel charge. Without lubricating the fuel ignition or shafts, it's literally impossible to run the engine fruitfully. So run it properly; Dexos 1 really prolongs the way to convert the engine oil to fuel.
ACDelco Dexos1 Full Synthetic Losses
Dexos 1 has already won the hearts of its fans though it has some bad sides too. Those are here:
One of the common complaints we get from the user is about its packaging. It was quite questionable, and sometimes the package was found leaking.
Can't Lead to Suspension of the Oil
The fully synthetic oil didn't lead to the suspension of the oil. For this, the old engine needs more gasoline to lubricate the parts as well as run them. Being a low-density synthetic oil sometimes occurs rusting inside the parts.
Didn't Worthwhile To Use In Aviation Engine
As we know, Dexos 1 is only preferred for gasoline-type engines. So it cannot go with any other type of engine, especially on the aviation motor.
Mobil 1 Wins
Unlike the Dexos 1, Mobile-1 also comes with some advantages. Let's see what merits it belongs to.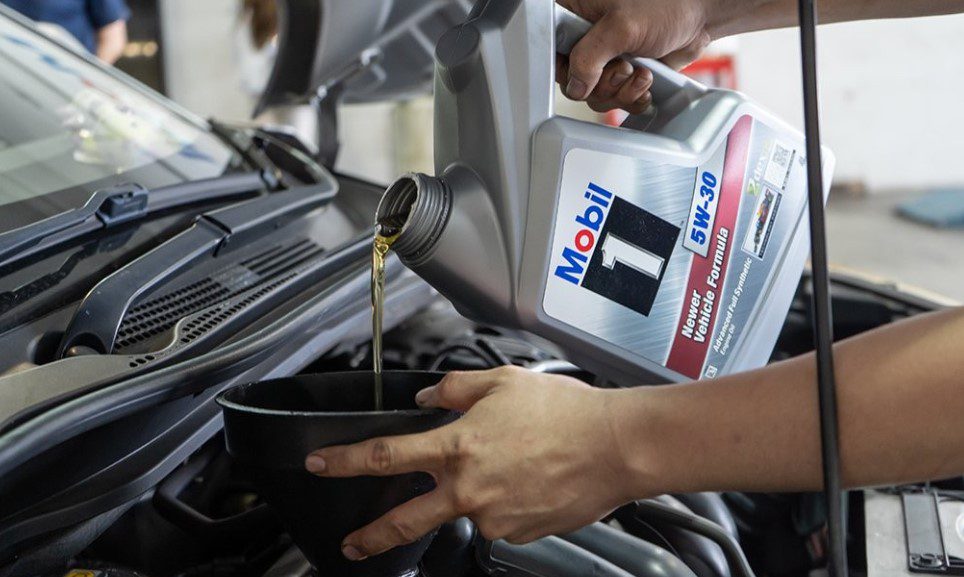 Provide longer engine life
Mobil-1 Mobil 1 is the vital synthetic oil for its compatibility to prolong the engine expiration dates. Most of the people who have used this oil for many years have never faced any struggles because of its reliability, high quality, and endurance. However, the oil has some important mechanism that allows the vehicles to work at their best. Again, Mobil-1 has vast types of supreme additives into silicone oil that is infested to reduce wear and tear.
Remain Unaltered Even In Hours later
After applying this oil into the engine, the oil didn't change its color, viscosity, and effectiveness even hours later. However, the oil is designed in a way that works to broadcast the engine age and parts. Despite being harsh driving or running over harsh surfaces, the engine didn't get damaged. Again, the oil will continue to give protection to the engine even when you're driving for long. This is the only reason for its gaining popularity among the users. However, it will save your penny from the cost of repairing motors.
If anyone continues to use this oil regularly. The oil will ensure that the complicated parts of the engine are well preserved and lubricated. Especially it contributes to preventing car build-sludges thermal breakage. In that case, you persist this oil as a cleaning agent to prevent it from being damaged or dusty.
Reduce friction & Restrain Overheating
This synthetic oil is the one that will also fight against frictions and restraint overheating. The oil makes a gyre between the moving parts. In Spite of being destroyed, Mobil-1 is susceptible to absorbing the excessive warmth and remaining cool.
It is quite difficult to change the oil while it is necessary. Mobil-1 can pair with high-quality fuel filters uniformity. Without any hassle of hiring experts or needless expenses, it's easy to change it.
Mobil 1 Losses
Mobil -1 had only one mentionable loss and that is:
Not Suitable for gasoline and diesel engines
which is it won't be suitable to use both in gasoline and diesel engines. Most of the gasoline and diesel engines are constructed with roller lifters. For this reason, the engine would not lubricate them as those things preferred to. Again, the full synthetic oil has less correlation between running those rollers to turning them on.
Final Verdict – Winner
We choose the Dexos-1 as the winner among the ACDelco Dexos1 Full Synthetic VS Mobil 1. It's because Dexos-1 can not run while using the aviation engine. Without this, Dexos-1 is the full synthetic oil that has all sorts of congruence that we found in Mobil-1 too.
Comparatively, Mobile-1 doesn't evaporate swiftly as well as absorb the extravagant temperature. Overall, Mobil-1 had been expanded by its influence in racing circles and became the official motor oil of NASCAR since 2003. In that case, Mobil-1 is also designed to be bought for high-end vehicle users like Toyota, Chevrolet, etc.