Yamaha R3 has an impression of superbike styling with an advanced twin cylinder engine through an ultra-light chassis. More like a perfect entry into the R World. But Yamaha R7 is a supersport bike with legendary styling with an advanced CP2 engine through an ultra-thin and lightweight chassis by providing a standard level of performance on both race track as well as on street.
Both the vehicles do have a reputation for providing a higher level of performance while on track or even while traveling on street but there are certainly a few differences to notice which one is better over the other.
Through this article, it will be explained by comparing the features between Yamaha R3 & R7, the differences of both the sportbikes do possess & conclude with a discussion on which is the better sports bike in the market.
Comparison chart between Yamaha R3 vs R7
| | | |
| --- | --- | --- |
| Features | Yamaha R3 | Yamaha R7 |
| Engine Type | 321cc liquid-cooled inline twin cylinder | 689cc liquid-cooled inline twin cylinder |
| Displacement | 321cc | 689cc |
| Front Tire | 110/70 – 17 | 120/70 – 17 |
| Rear Tire | 140/70 – 17 | 180/55 – 17 |
| Seat Height | 30.7 inches | 32.9 inches |
| Fuel Capacity | 3.7 gal | 3.4 gal |
| Factory Warranty | 1 year | 1 year |
| Bore & Stroke | 68.0mm x 44.1mm | 80mm x 68.6mm |
| Compression ratio | 11.2:1 | 11.5:1 |
| Transmission | 6 – speed: multiplate wet clutch | 6 – speed: multiplate wet clutch with Assist and slipper clutch |
| Suspension – front | 5.1 in travel | 5.1 in travel |
| Suspension – rear | 4.9 in travel | 5.1 in travel |
| Brake – front | 298mm | 298mm |
| Brake – rear | 220mm | 245mm |
Yamaha R3 vs R7
Yamaha R3 is a sports bike that uses an advanced twin-cylinder engine by having a stylish appearance with an ultra-light chassis which helps consumers by providing them more reason to purchase. Yamaha R7 is a bike that consists of supersport bike formula by offering a two-cylinder engine instead of four.
In terms of performance, Yamaha R7 provides a higher level of output especially on track or while on street. Hence, the engine helps to enhance its performance compared to its competitors.
Furthermore, it will be explained on the components where Yamaha R3 & Yamaha R7 have distinct advantages as well as disadvantages. Finally, it will be concluded which bike the consumer should purchase by comparing both the bike's features:
Yamaha R3 Wins
---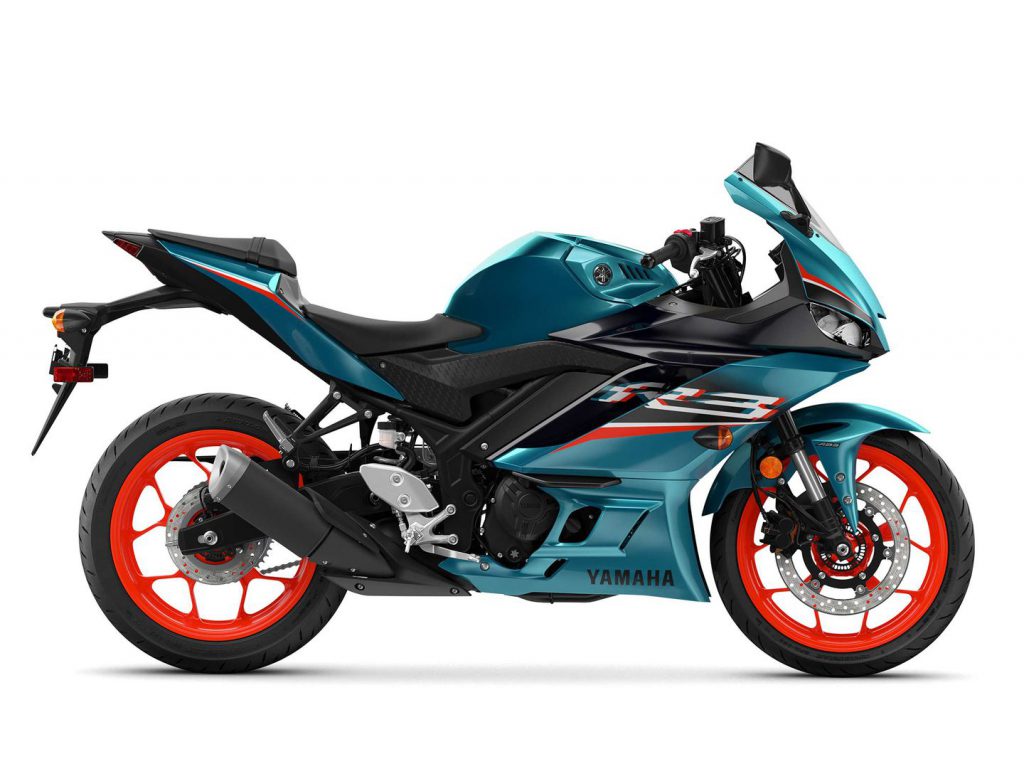 Yamaha R3 does possess in having a strong appearance, which allows it to gain consumers' attention. It certainly has a sharp design with a different type of styling, which makes it attractive & the exhaust has been appropriately shaped.
It has a low-profile fuel tank along with a compact handlebar position which certainly helps the rider to easily have a hold of the vehicle especially when they are proceeding through aggressive speeds. So the design certainly helps to have a ride that is comfortable especially while traveling long distances
Yamaha R3 Losses
---
Yamaha R3 possesses a significant amount of power when compared to its competitors but in comparison to Yamaha R7, the performance is quite less because Yamaha R7 is a newer version with an increased engine torque.
The ABS is very popular & consumers do know that it is important for the vehicle but unfortunately while Yamaha R3, does not come with an ABS which is certainly not something that consumers expect.
Non-availability of slipper clutch
The reason consumers purchase Yamaha R3 is that it is compatible with different conditions of the road, but the slipper clutch not being available will certainly create concerns for track racing purposes.
Yamaha R7 Wins
---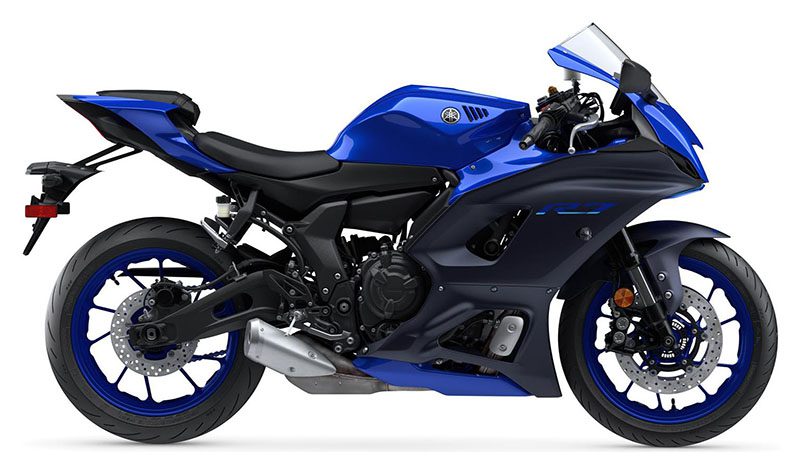 Excellent power & performance
The Torquey CP2 Powerplant provides outstanding power & performance throughout the RPM range for an amazing experience of a ride to have a feeling of traveling on a supersport. It also provides linear torque that helps to deliver a strong level of acceleration and a lower level of vibration
Assist with all-new slipper clutch
Yamaha R7 is included with a slipper clutch that provides ease while braking or downshifts & to receive a controlled feeling of the bike. Hence it adds less pressure on the slipper clutch level force.
Higher level of control/ handling
While traveling on roads that have plenty of bends or twists, Yamaha R7 possesses capabilities that will allow it to confidently perform on cornering tracks & quick on bends or twisty roads
Yamaha R7 Losses
---
This can be considered in a positive frame of mind but some of the riders do feel that it is not fitted for standard & the competitors do provide more rider aid. So it takes time for riders to get used to the shift of the bike.
Conclusion
Yamaha R3 & R7 are popular for being known as vehicles that provide the performance of supersport quality, also making consumers joyful of the ride. But Yamaha R7 has an advantage over R3 while understanding the below factors:
The displacement of the Yamaha R7 is 689cc which provides a higher level of power & output but Yamaha R3 possesses 321cc.
The seat height of Yamaha R7 is comparatively higher than Yamaha R3 which allows it to have a more upright position which some consumers do prefer.
Yamaha R7 also provides new features of a slipper clutch & increased level of control that certainly helps while riding at a higher level of speed.
Hence, by assessing the above factors it can be understood that Yamaha R7 is better than Yamaha R3 & do mention your comments below in terms of your viewpoint.